Being a storyteller as travel host and writer is my oxygen and the core of who I am. I consider it an honor and extremely rewarding to share travel inspiration to the masses.  Much like doing a good deed, or a "mitzvah" as they say in the Jewish religion, it's my belief that travel is the only thing you can buy that will actually make you richer.

On the first Travel Time with Linda episode of Season Two, we shone our spotlight on Northern Ireland. With its treasure trove of past and present landmarks, lush landscapes and rolling green hills, it's a bucket list destination where legend and reality mingle.

Passionate about delivering the finest curated experiences, the luck of the Irish was most definitely with us touring the Emerald Isle with Brendan Vacations. As Jameson is to whiskey and Waterford is to crystal, Brendan Vacations is to Ireland travel.

Each guest receives a well-appointed "local host" who rolls out the green carpet, delivering personalized, one-of-a-kind experiences to cherish.

Here's a few suggestions to do in Northern Ireland for a truly authentic take on the destination:


Tour the Giants Causeway with a Local Seanachai (Storyteller)

Ireland is the land where myth and legend lives on, and the tale of the Irish giant Finn McCool is one of the most famous. The Giants Causeway's golf-course-green canyon wall slopes into a set of volcanic rock formations that are completely surreal.  Near perfect hexagon tubes are stacked next to each other like puzzle pieces.  Scientists say the causeway could be the result of a volcanic eruption 60 million years ago while legendary myth believe it's an ancient home of a mighty giant.  Mark Rodgers, a local seanachai (storyteller, pictured at top) shared the legendary tale with us on camera and can be booked for your own private tour wearing his full tradtional Irish regalia.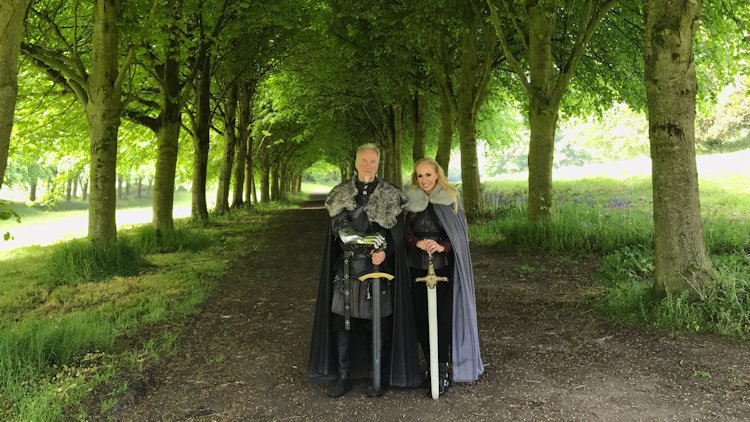 Chuck Shanlever


Ax Throwing and Archery Lesson at Castle Ward, in Game of Thrones Territory

Northern Ireland is Game of Thrones territory, so for all you GoT fans...winter is here. Castle Ward or Winterfell is where many of the scenes from the first season were shot.  For a fully immersive experience, how about a lesson in the fine art of ax throwing and archery where the Stark family learned their skills.  See if you're worthy to hunt for food and defend yourself in true Game of Thrones style, complete with the borrowed cape and sword provided on the tour.  I mastered enough skill to keep me in the wild for about a half hour and walking through the famous tree tunnels I got the chills realizing I was in the exact filming location where GoT began.


Shop for the Ultimate Irish Souvenir: the Cladddagh Ring

Shopping always finds its way into my itinerary as an integral part of discovering any new destination. It's so much fun finding that unique keepsake to bring home to remember the locale.  After all, that's what the word "souvenir" means- "to remember". The traditional Irish Claddagh ring dates back to the late 1600's, when Richard Joyce was kidnapped from Ireland by pirates and taken as a slave to the West Indies.  When he finally made his way back to Claddagh he came up with the design for the iconic ring that represent three elements.  The heart in the center which represents love, the hands on either side for friendship, and the crown for loyalty.
A little fun fact I learned the hard way on camera while shopping for Claddagh rings: if the heart on the ring is facing outward, it means your heart is free, and if facing inward it means your heart is taken.  Halfway through filming the segment I realized I was wearing it the wrong way - sorry to my husband of 29 years, it was an honest mistake!



Henryk Sadura


Spend a Day Touring the Best of Belfast

Famous as the birth city of the Titanic, Belfast is full of surprises and hidden gems.  Its unique locale has much to offer in terms of history, heritage and culture with an array of past and present landmarks to see and celebrate. Among its most popular attractions is Titanic Belfast, an impressive visitor experience and a must-see on any visit to Belfast. This interactive exhibit has nine galleries with something for everyone including an electronic ride to transport you through the Titanic's historical shipyard.

In the afternoon, take a leisurely stroll in the fairytale setting of the Castle Cat Gardens at iconic Belfast Castle.  Finish off the day with a proper pub crawl starting in the Half Bap area, the oldest part of the city, at The Duke of York.



I'm often asked to list my favorite travel destination and my blanket reply is always a resounding "the next one".  Not only is this a true statement and spoken like a serial travel addict but that's like being asked to select your favorite child which is of course equally impossible to answer.
Tune in to watch Season Two of  Travel Time with Linda, featuring bucket-list destinations, on AXS TV Network, Sunday mornings 8amEST/PST and 7am CST, and watch Season One on Amazon Prime Video.