For Costa Rica Tourism Minister Allan Flores, the news of more and more international airlines announcing new routes or more flights to Costa Rica shows the huge success of efforts by the Costa Rican National Tourism Board to attract more airlines and flights to the country from Costa Rica's key international tourism markets.
"This news represents the basis to continue with marketing efforts, along with the government's strong policy focused on increasing flight frequency, new flights and attracting airlines to the country," said Flores in official comments earlier this year.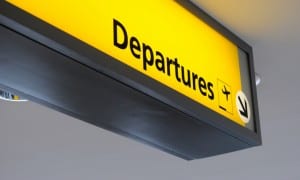 The Ministry of Tourism and Costa Rican Tourism Board (ICT) have been working hard over the past year to attract new airlines and increase the frequency of flights to Costa Rica. The endeavor is paying off. Seventeen international airlines currently fly into Costa Rica's two international airports, not including occasional charter flights. New campaigns are in the works to attract tourists in the emerging tourism markets of Brazil, Russia, India and China.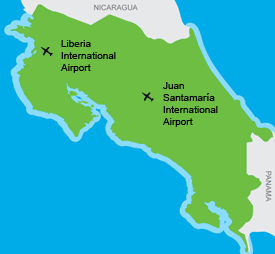 Costa Rica has two international airports that receive flights from all over the world. The Juan Santamaria International Airport, or the San Jose International Airport as it is better known, sits just outside of downtown San Jose, the capital city. Costa Rica's second international airport, the Daniel Oduber International Airport, or the Liberia International Airport, is located in Costa Rica's northern Pacific province of Guanacaste. Situated in the provincial capital Liberia, this modern airport is fast becoming the arrival destination of choice for travelers looking to enjoy the beautiful sunny beaches of Guanacaste and the Nicoya Peninsula.
In 2012, roughly 2 million tourists entered Costa Rica, 70% traveling by air. In just the first 6 months of 2012, the San Jose International Airport received 655,530 arrivals, and the Daniel Oduber International Airport in Liberia welcomed 198,913 arrivals – a colossal increase of 26% in comparison with 2011 for the Guanacaste area. The majority of visitors came from the United States, Canada and Mexico, reports the ICT.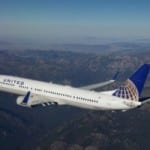 Five major international airlines announced plans to increase flights to Costa Rica in 2013. On April 13, U.S. mega-airline United Airlines will begin weekly direct non-stop flights between San Jose and its U.S. connection centers in Chicago and Washington-Dulles. These flights will complement the existing service between San Jose and the United Airlines distribution centers in New York and Houston.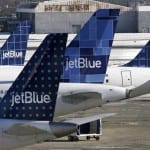 JetBlue Airways plans to add daily non-stop flights between the International Airport at Fort Lauderdale/Hollywood, Florida, and the San Jose International Airport, beginning June 27, 2013. JetBlue is working hard to outperform competitor airlines with spacious seats offering more legroom onboard, free entertainment monitors on every seatback, and free snacks and drinks. Most U.S. competitor airlines charge for all of these services. JetBlue operates flights between Orlando, Florida and San José and from John F. Kennedy International Airport in New York to Liberia in Guanacaste.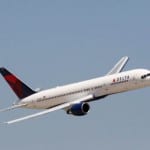 Beginning July 2, Delta Airlines will offer a new daily non-stop flight between Los Angeles and San Jose, Costa Rica. The new route, to be operated by a Boeing 757-200 with capacity for 180 passengers, will complement Delta's two daily flights between San Jose and Atlanta, Georgia.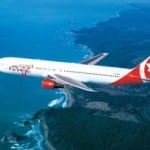 Canadians will have an easier time flying to Costa Rica with the launch of Air Canada's new discount "leisure airline," Air Canada rouge (spelled with a small "r"), beginning July 1. Departing from Toronto's Pearson International Airport and Montreal's Trudeau International Airport, rouge will service both of Costa Rica's international airports at San Jose and Liberia.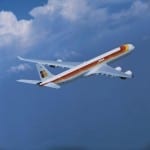 Opening the European market further, Iberia Airlines announced that the Spanish airline is increasing its flight capacity between San Jose and Madrid in 2013, operating more flights with its largest aircraft, the Airbus A340-600, which has 342 seats. Iberia currently flies daily non-stop between San Jose and Madrid. Passengers from San Jose can connect in Madrid to 31 other Spanish cities, 27 European destinations and 13 in Africa and the Middle East.
U.S. airlines that fly into Costa Rica include United, American, Delta, US Airways, Frontier, JetBlue, Spirit and Sun Country. International airlines that fly to Costa Rica include TACA/Lacsa, Copa, Iberia, Air Canada, Aeromexico, Avianca, WestJet, KLM and Condor.
Travel to Costa Rica
Valle Dorado Tours is a top Costa Rican travel agency with the experience to handle all of your Costa Rica vacation needs. More than 20 years of experience in the Costa Rican travel business, and personal inspections by their professional team of all tours, hotels, destinations, transportation, etc., ensures that Valle Dorado Tours offers you custom-made Costa Rica vacations. Check out their extensive menu of one-day tours, destination tour packages, thematic tour packages, and custom vacation packages all over Costa Rica. Their expert travel staff can help you arrange your Costa Rica vacation from start to finish.
By Shannon Farley