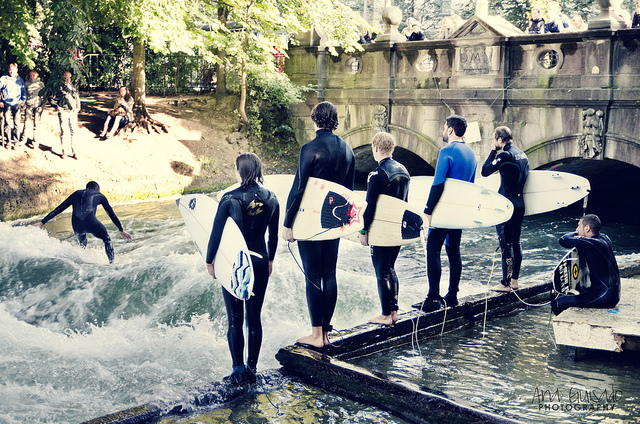 by Maria José Cortes Lamas


Picture it: Bavaria, end of the 19th century. The young monarch Ludwig II (the one dubbed by some at the time "mad King Ludwig") wants to irrigate Munich's English Garden with its River Isar. So his engineers divert some its its water, creating a new river, the two-kilometre (1¼-mile) Eisbach – which thanks to its slope and other factors turned out to be in parts quite the wild, whitewater bit of business. Essentially the world's first FlowRider. And surfersthroughout Europe today are grateful, indeed.

Surfers have been hanging ten on the gnarliest sections of the Eisbach since the 1970s, but things got boosted to the next level in 2010, when after years of resistance (including police patrols), city authorities finally gave their official blessing to surfing here, and local surfers rigged an underwater contraption of planks and ropes attached to the nearby bridge to enhance, lift, and sharpen the wave action more to their liking.



Now, even if you know nothing about hanging ten, you can probably imagine it's not like doing it on an ocean. The faster and more challenging of the two waves here can be a tricky beast but one that allows surfers to pull out lots of their own tricks, and keep riding nearly as long as they can hold their balance (in the ocean, waves eventually break on the shore, but not here). One of the tricky parts here, too, is hopping onto the wave – unlike in an ocean, here you have to do it from the river bank.

So nowadays, weather permitting summer through fall, the banks of this remarkable little man-made river are lined not just with surfer dudes and dudettes with their gleaming surfboards and Neoprene suits, but gawkers both local and out-of-town, gawking, drinking, and chatting it up ,some with beers in hand.

Intrigued and want to learn more? Check out our inflight magazine Ronda's recent article, "Munich: Ride the Wave".

So, sorry Beach Boys, but really – who needs an ocean?