During the time I lived in and have since visited Catalonia, this for me is one of the region's most charming traditions.
April 23, 2015 might seem like just another Thursday, but in one special corner of the world,
Catalonia
, the Catholic feast day of St. George is an especially big deal. In
Barcelona
,
Girona
,
Tarragona
, and other parts of the northeastern Iberian peninsula,
St. George's Day
(
Diada de Sant Jordi
) is celebrated as a kind of
Valentine's Day
with an intellectual twist. The longtime legend of St. George vanquishing the dragon has led to various traditions in Europe – St. George is the patron saint of England, for example – but in Catalonia it's also one of the highlights of the calendar, with a tradition in which people give roses and books to friends, co-workers, and significant others. 
It's been celebrated as the "day of roses"  since the 15th century, but why are books now part of the picture? The matchup dates back to the early 20th century, when Catalan booksellers noted the coincidence with the anniversary of the deaths of literary giants Miguel de Cervantes and William Shakespeare.
 
Catalonia's capital Barcelona especially pulls out all the stops for Sant Jordi, with millions of roses of all hues as well as books on offer at stands on the lively, delightfully shady Ramblas (top) and elsewhere in the city. Street performers and musicians are out in force, and this is also another occasion to witness the national Catalan dance, the sardana, in public places like the
Plaça Sant Jaume
(it's also the only day of the year visitors can come into the medieval HQ of the
Generalitat
, the Catalonia governing body). In addition, this tradition has had an impact beyond the borders of Catalonia, leading to the establishment of
World Book Day
in 1995.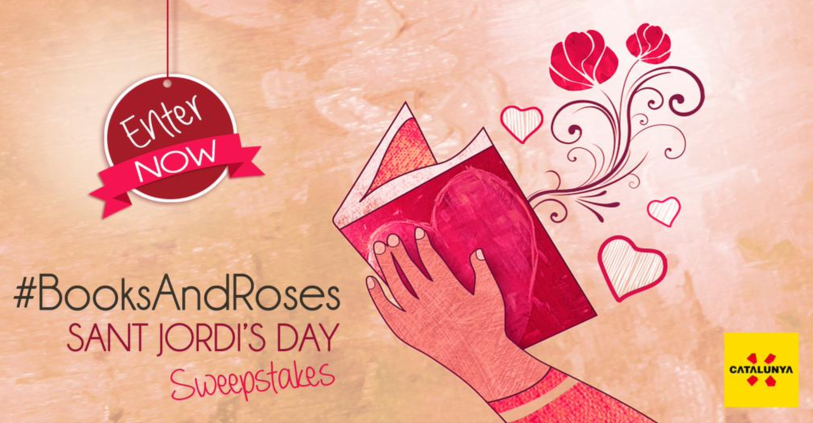 This year, to mark the occasion the Catalonia Tourism Board has launched a
#BooksAndRoses
 promotion valid in the USA and Canada where all entrants need to do is sign up for a chance to win a rose and a book – appropriately enoough, a copy of
Frommer's Barcelona Day by Day
, by veteran travel writer Neil Edward Schlecht.
As lovely as Valentine's Day is, the concept of joining heart and head in one holiday is especially appealing, and Sant Jordi fits the bill admirably, as well as showcasing for the world the diversity of this remarkable corner of Europe, with a cultural and historic heritage second to none on the continent.
Want to celebrate Sant Jordi too? Participate now in
#BooksAndRoses
 :-)