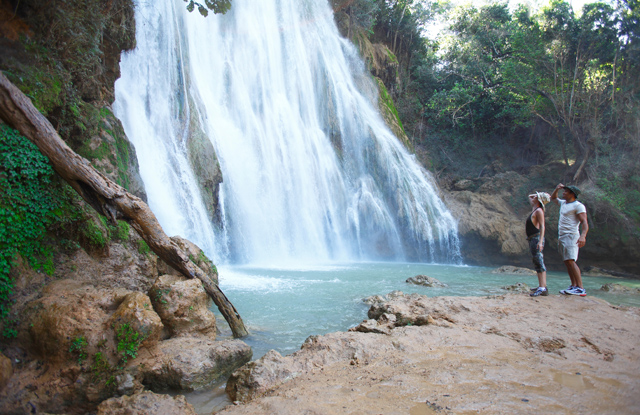 Dominican Republic Tourism


by Marita Acosta
In a country where resort zones such as Punta Cana and Puerto Plata have become household names to holidaymakers in the Americas, Europe, and beyond, the new frontier in exotic, sunsplashed getaways is also starting to make a name for itself. Samaná Peninsula, here we come. 
Also its own province, this L-shaped territory astride the eastern half of the DR's northern coast is a largely wild and natural region where rather than big all-inclusive resorts, it's all about small hotels and guesthouses, and a vibe that appeals to independent travellers.
Sylvie Corriveau


The appeal begins with some of the world's loveliest beaches, such as the understatedly named Playa Bonita ("Pretty Beach"), with crystal-clear waters, blindingly white sand, and several small hotels and a cute little village nearby. Then there's Playa Rincón (above) near Las Galeras, with a little creek and a backdrop of verdant mountains which leaves you feeling like you've stumbled across the most divine castaway beach in the world. You can also grab a boat excursion to the tiny offshore island Cayo Levantado, (aka Isla Bacardí), with its own spectacular beach as well as a troupe of trained sea lions with which you can get photo ops. Another offshore must you arrive in season (mid-January to mid-March) is a whale-watching excursion to watch the majestic humpback whales which migrate to these waters annually for mating and calving (these and other boat excursions are based in the region's main city, Santa Bárbara de Samaná).
There's plenty to experience heading inland from the coast, as well, into the Sierra de Samaná mountains where spectacular waterfalls, breathtaking views, and other adventures are plentiful. The El Limón falls (top), reachable on foot or by horseback, is a particularly edenic example.
Francois Gagnon
Another is Los Haitises National Park, a protected virgin rain forest covering 826 square kilometres (319 square miles) not far outside the province's capital. Accessible by boat and 4-wheel-drive vehicles, it's an ideal spot for hiking, paddling through the mangroves, and seeing Taíno art and glyphs in caves such as La Reyna, San Gabriel, and La Línea. One particularly lovely spot here is Cayo de los Pájaros (Bird Key, above)), with pelicans and frigatebirds wheeling above and myriad other species, as well.
Samaná – it's truly a Caribbean natural.

More information: GoSamana.com.

Best fares to DR from the U.K., from Spain.