Kaiseki ryori with irori-yaki
The historic town of Nikko, in Tochigi Prefecture, Japan, is just two hours north of Tokyo, via Tobu Railways, from Tobu Asakusa Station to Tobu Nikko Station. While, Nikko is famous for its UNESCO World Heritage sites, "The Shrines and Temples of Nikko," and its soothing natural hot springs and pristine picture-perfect scenery, it is also a mecca for "Back-in-Time"dining.  Yes, a trip to Nikko is an ideal way to experience some of Japan's most ancient culture through its authentic local cuisine.




Irori-yaki (Hearth-Fired) Cuisine at Honke Bankyu, a 350-year-old Ryokan


In 1185, Taira no Tadazane of the Heike Clan (House of Taira) is said to have escaped to Yunishigawa, in the mountainous valley of Tochigi Prefecture, after losing the Battle of Dan-no-Ura, which pitted two powerful clans against ­each other. Taira no Tadazane discovered Yunishigawa Onsen (hot springs) at the current site of Honke Bankyu, a ryokan (traditional inn) founded in 1666.  
Exterior of Honke Bankyu

Here, hot water still flows into the Fujikura-no-yu, an outdoor bath with a seasonal mountain view. 
Honke Bankyu is to this now open for more than 350 years, which is 800 years on from the days of Taira no Tadazane. The current owner is the 25th generation of the family to run the inn!

Kazura Bridge connecting to Heike Hidden Guesthouse
Crossing the Kazura Bridge, visitors are brought to the Heike-no-Kakurekan (Heike Hidden Guesthouse), a branch of Honke Bankyu, designed in the style of an old minshuku (guest house). Here, guests can enjoy irori-yaki, fresh, locally-sourced and seasoned mountain vegetables and fish (today also meat), cooked on a charcoal fire, as well as traditional and seasonal Japanese kaiseki (multi-course) cuisine. Dining around the hearth, as was done in ancient times, allows today's visitors to experience the atmosphere of Japan's age-old food culture first-hand. 
Enjoying irori-yaki 

Twenty-Fifth Annual Kamakura (Snow House) Festival, Jan. 27-March 4, 2018

For those who truly want to travel back in time in Japan this winter, it's best to visit Yunishigawa Onsen between Saturday, January 27 and Sunday, March 4, 2018. During this period, the town will celebrate its 25th annual Kamakura Snow House Festival. (A "snow house" is like an igloo.) Visitors can frolic in the snow during the day. Then, when dusk fall, they can step into the crystalline glow of candle-lit snow huts, along the Yunishigawa river bank. This photogenic event has been officially recognized as one of Japan's best night scenes by an unofficial organization cataloging and promoting Japan's nighttime tourist assets. 
Kamakura Snow House Festival

Making and Eating Yuba: A First-Hand Experience with this Local Food Specialty, Brought to Nikko Through the Spread of Buddhism

Nikko's most famous local food is yuba.  Yuba is the skin formed at the surface of soy milk, when it is boiled to make tofu. It was brought to the region in 766, when Buddhist temples were first founded in the Nikko mountains. Yuba is nutritious and easy to process and carry. This made it an indispensable source of food for monks and acolytes in training. Nikko Hoshinoyado is a ryokan located near Nikko's World Heritage sites. Accordingly, visitors often come just for lunch to experience yuba cuisine, including hikiage-yuba skimmed straight from the pot. Guests can enjoy both making and eating yuba, an important part of shojin ryori or Buddhist vegetarian cuisine. 
Meal with Yuba

Unlimited Seasonal Pick-Your-Own Strawberries – December through June

Nikko Hanaichimonme is a botanical garden with beautiful blooms on view year-round. In addition, from mid-December 2017 through to early June 2018, with reservations, visitors can take part in 30 minutes of unlimited strawberry picking (1700 yen per person + 400 yen for garden entry). Tochigi Prefecture is home to Japan's largest strawberry harvest. Selective breeding has produced delicious local varieties with a juicy-sweet rather than tangy taste.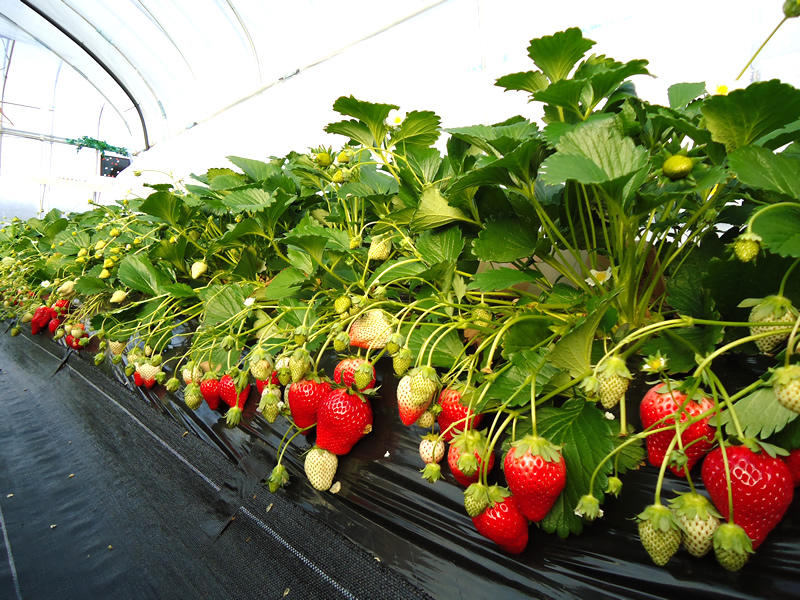 Tochigi's strawberries
Check out A Day in Nikko by Tobu Railway: https://www.youtube.com/watch?v=4TqVkn7eDJg