The Duomo Is the World's Fifth Largest Christian Church


The city's main icon is outdone by only St. Peter's Basilica in Rome, the Basilica of Our Lady of Aparecida in Brazil, Cathedral of St. John the Divine in New York, and the cathedral of Seville, it covers 109,641 square feet and an entire city block. Its size is even more impressive considering it's the oldest church on that list.
And It Has the Most Statues

They say there are more statues on this Gothic cathedral than any other building in the world; 3,400 statues, 135 gargoyles, and 700 other figures. Climb the stairs or take the lift to the rooftop to fully appreciate the architecture of the most renowned silhouette in the city. From the rooftop you'll see breathtaking views across Milan, and on clear days the snow-capped peaks of the Alps. You can also see the famous Madonnina, the golden statue of the Virgin Mary that stands atop its highest spire.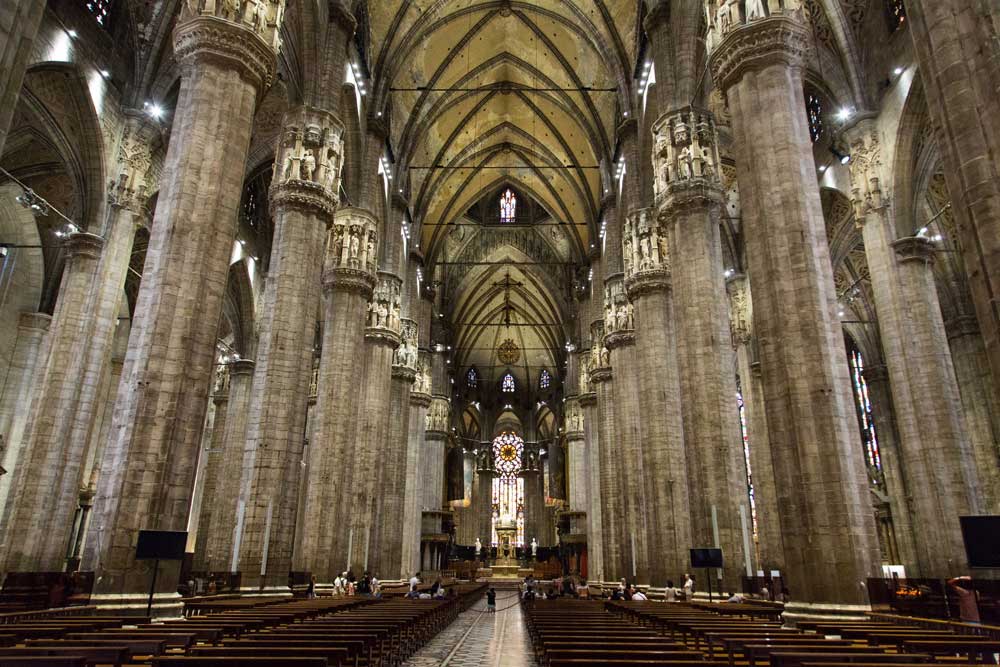 It Took Thousands of Workers, a New Canal System, and Over Six Centuries to Complete

The "fabbrica dal Dom" officially started in 1386 under Bishop Antonio da Saluzzo and was supported by the ruler of Milan Gian Galeazzo Visconti who had grand visions of the cathedral. Though originally started in terracotta stone, once the grandeur of the project was realized Condoglian marble from Lake Maggiore was chosen. The entire building is made up of this pink-hued white marble. To bring it from the quarries of Candoglia, canals were dug leading to the construction site, evidence of which is still visible along the famous navigli, the canals left over from the network built in southern Milan specifically for that purpose! Thousands of artists, sculptors and specialized workers were involved in the construction of the Cathedral of Milan. Architects from across Europe were invited to work on the project (at least 78 different architects total) and as it grew and grew, its construction dragged on over the years. It was consecrated in 1418 but only the nave was really finished at that time. Heavy construction continued for another 200 years.
And Don't Miss the Little Red Bulb!

Above the apse (the arched part above the altar) there is a spot marked with a red lightbulb. This marks the spot where one of the nails of Jesus' crucifixion was allegedly placed. Every year on the Saturday closest to September 14 the archbishop of Milan ascends to the apex in a wooden basket decorated with angels to retrieve the nail. The basket itself was constructed in 1577, though it was significantly reconstructed in 1701 when the angels were added. But you've got to be visiting at the right time – the nail is exhibited at the altar until the Monday after vespers before it's lifted back up again.