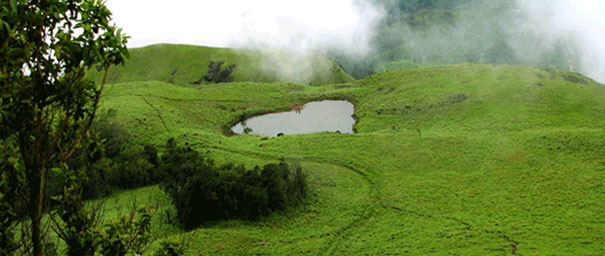 The beautiful land of Kerala provides myriad landscapes and experiences to enchant its visitors - not just the beaches and reknowned "backwaters," but also lovely hill stations (mountain towns built by the British to escape the heat of thee lowlands) surrounded by expansive tea and coffee plantations, endless spice gardens, and panoramic views of mist-swathed hills.
Stimulating Wayanad
With its mist clothed mountains and mountainous rivers, Wayanad is an idyllic location for a weekend trip. Its majestic charm, thick rain forest, dazzling waterfalls and spice plantations supply not just a lot to see but also the backdrop for outdoor and adventure activities. The best time to visit is from October to May. Highlights include:
Chembra Peak - The highest peak in the area offers spectaculars view at the top.

Pakshipathalam - Explore the deep caverns here, home to a wide range of birds, animals, and distinct types of plants.

Soochippara Waterfalls - These fairly unidentified falls are a feast for the eyes and offer an opportunity for rock climbing.

Kuruva Island - An evergreen forest on the tributaries of River Kabani with unusual types of birds, orchids and herbs, this is a perfect picnic spot for a laid back afternoon.

Muthanga Wildlife Sanctuary - Visit the most significant abode of elephants in India for an unforgettable time. Explore the sanctuary and area different types of spotted deer, bison, tiger, and wild bear. Entry windows are 6 to 9 am and 3 to 6 pm.

Where to Stay:  Vythiri Village Resort enjoys a peaceful setting on Chembra Peak, with elegant rental properties and tree homes, while Banasura Hill Resort is spread across 15 acres lavish greens on Banasura Sagar Island.

How to Get Here: The closest rail station is Kozhikode (110 km) and airport Karipur (100 km).
See also Alleppey travel packages.
The well known hill station of Munnar is as popular for its romantic location as for its prospering tea gardens. And if you're lucky, you can see the valley turn blue with Neelakurinji flowers once every 12 years (though sadly the next time won't be till 2030). Best times to visit are October to November and January to May. Highlights:
Eravikulam National Park - Open April through January, this lovely expanse is especially known for its rare epiphytic orchids, wild balsams, and the Nilgiri ibex, as well as Anamudi, south India's highest peak.

TATA Tea Museum - Find how tea gets processed and taste a variety of teas. Open 9 am-4 pm, closed Monday.

Mattupetty Dam and Lake - Picturesque, tranquil - and you might even spot wild elephants!

Where to Stay: Windermere Estate features bungalows that are a throwback to yesteryear, offering a mix of Old-World appeal and mysterious natural beauty. And cosily nestled right in the middle of two hills, KTDC Tea County provides mesmerising views with heat and high-end amenities to its guests.

How to Get Here:  The nearest airport is Cochin (119 km) and train station Ernakulam Junction (120 km).

See also the best of Kerala with Taj hotels.

Surrounded by a string of hills with a mix of meadows and forests, this paradisiacal hill station offers nature trails where you can spot will buffaloes and elephants bathing in watering holes. Best visited from March to May. Highlights:
Kurisumala Dairy Farm - Managed by Kurisumala monks, it exudes the atmosphere of the idyllic countryside.

Thangal Para - Climb this hill to see the unique rock formations as well as stroll through an ancient cavern.

Mundakayam Ghat - Visit for not just a stunning and serene sunset but also for awesome adventure activities such as paragliding.

Where to Stay: Surrounded by shimmering streams, lakes, tea gardens and cardamom plantations, Vagamon Hide Out & Ayurveda Spa combines an eco-friendly environment with a spa emphasising ancient Indian wellness treatments.And Spice Garden Farm is a resort which provides a bucolic natural environment to its guests along with amenities like an on-premises safari.
How to Get Here: The closest airport is Cochin (120 Kms) and railway station Kottayam (64 Kms).

Also see Kerala luxury packages.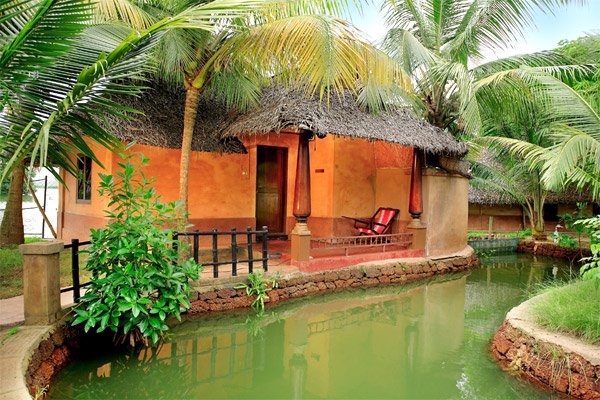 Romantic Ponmudi
One of the charming hill stations near Trivandrum, it has narrow winding paths with lovely views, along with a stunning array of mountain flowers, exotic butterflies and little rivulets. Best time visit is from January to March. Highlights:
Golden Valley - Take a dip in the crystal clear waters of River Kallar here followed by leisurely picnic.

Meenmutty Waterfalls - Hike from Kallar through thick forests to see these lovely cascades (the forest department offers a guide for travelers).

Peppara Wildlife Sanctuary - Come to spot a variety of wild animals like Asian elephants, sambar, lion-tailed macaques, and Malabar grey hornbills. Open 8 am - 4 pm.

Where to Stay:  Golden Peak has a blend of the wooden and granite cottages amid mist-laden hills, offering the visitors a very special experience ideed.

How to Get Here: Closest airport is Trivandrum (67 km), train station Thiruvananthapuram (61 km).
Also see Kerala vacation packages.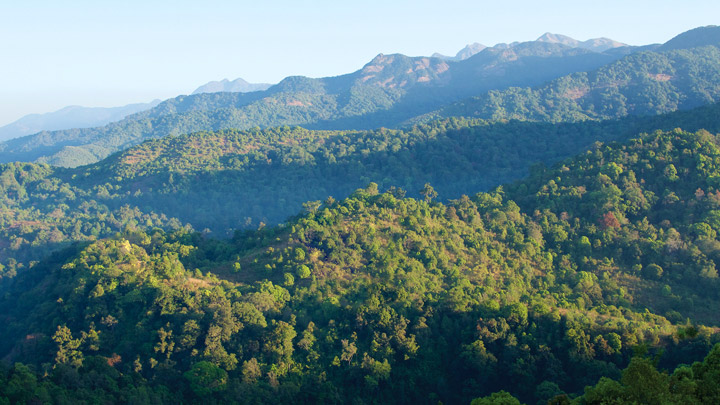 Untamed Silent Valley

For an atypical holiday experience that you will remember for years, check out the Silent Valley. Unlike a lot of the more commercialzed hill stations, much of the natural charm here is still intact, and it's the home of a number of uncommon species as well as the Kurumbar tribes.

Silent Valley National Park is among the most ecologically varied areas in the world, with some flora and fauna found nowhere else on the planet. Check out to obtain an opportunity to see over 34 types of mammals among, such as the rare lion-tailed macaque, Nilgiri langur, Malabar giant squirrel, and hairy-winged bat. Entry into the valley is permitted just from 8 am to 2 pm. Special approval is needed to enter which can be obtained on the spot at the Forest Department office at Mukkali. You can lease a Jeep from Mukkali to the Valley for Rs 650. The best time to visit the area is December to April.

Where to Stay:  Located in the foothills of the national park, Vision Nature Resorts provides a comfortable stay integrated with activities like birdwatching, tribal village walks, plantation visits, and fishing. Silent Valley Treetop Resort is set amid serene natur and offers an Ayurvedic centre with invigorating treatments.

How to Get Here: The nearest railway station is Palakkad (69 km), and airport Coimbatore (91 km).
At one of the few hill stations near Kerala's capital Kochi, features include wildlife sanctuaries, spice plantations, mountain treks, and elephant trips, to name just a few. Best time to visit is from October to February. Highlights:
Idukki Wildlife Sanctuary - Visit this sanctuary to spot elephants, bison, sambar deer, jungle cats, and various species of snakes consisting of cobra, viper and kraits. Open 9 am - 5 pm.

Kalliyanathandu - Great for climbers, with scenic views of the forests below.

Idukki Dam - One of Asia's highest arch dams is an impressive sight indeed,

Where to Stay:  Surrounded by acres of unblemished natural charm, the local-style lodgings at Green Berg Resort  offer greacious living with contemporary conveniences.

How to Get Here:  The closest railway station is Kottayam (114 km) and airport is Madurai (140 km).
Also see best of Kerala tours.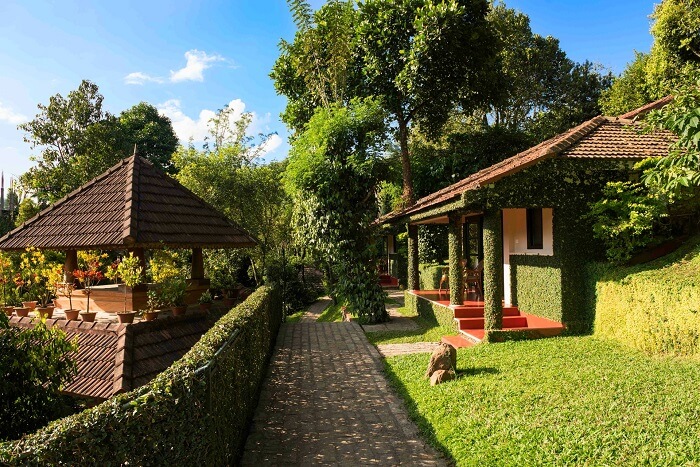 Amazing Thekkady
Uniquely abundant and varied in its plants and animals, as well as home to spice plantations, this exotic hill station supplies much to experience. Visit from September to May, and experience highlights such as:

Periyar Wildlife Sanctuary - Home to many elephants, it is among the prime attractions in Thekkady. Make certain to indulge in bamboo rafting, nature walk and the Tiger trail while you are here. The entry time is from 6:30 am to 5:30 pm.

Vandanmedu - Make sure to take an swing through the broad spread of cardamom plantations here for an envigorating experience.

Kumily - Go shopping in this town, situated between the cardamom hills and popular for its spice trade.

Murikkady - With a panorama of cardamom, coffee and pepper plantations, this makes for an ideal picnic spot.

Where to Stay:  With a focus on modern architecture, the elegant Peppervine Hotel has views of the nearby Periyar tiger reserves and the spice plantations. Exclusively zoned for nature reserves, the residential property Coffee Routes includes a remarkable range of trees, flowering and medical plants providing an authentic experience to its guests.

How to Get Here: The closest railway station is Kottayam (68 km), airport Madurai (140 km).



For more information on Kerala tour packages, contact Swan Tours, one of the leading travel agents in India.