Cambodia is the Landmark of Ancient City, one of the best destinations in Southeast Asia, the fascinating Siem Reap is famed for its marvelous Angkor Wat, the unrivaled masterpieces & the finest architectures that makes Siem Rea become a pearl city of wonder. Distinctively, from Angkor archaeology to the modern capital city of Phnom Penh where precious Royal Palace stands, Cambodia's southern coasts & natural islands offer the perfect relaxation of beach break, unlikely northern hidden Cambodia's specialty.
Where is Cambodia?
Cambodia is in the tropical monsoon, situates between Vietnam and Thailand, and shares border with Laos at northern part, Southeast Asia. Cambodia covers 181,035 square kilometers of land and has a population of 15 million with density of 82 people per square kilometer.
The first priority you need to know before you plan to visit Cambodia!
How do I obtain visa to Cambodia or can I get visa on arrival?
Some of Asian passport holders are officially allowed to enter Cambodia without visa and can stay in the country at least 15 days up to 30 days depending on ASEAN member-countries (Malaysia, Philippine, Singapore, Thailand, Myanmar, Laos, Vietnam etc.) except Afghanistan, Algeria, Bangladesh, Iran, Iraq, Nigeria, Pakistan, Sudan and Sri Lanka while most of European passport holders such as American, Canadian, French, Germany, Italian, Brazilian, Portuguese and Australian can obtain visa on arrival.

Tourist visa for most nationality is available for 30 days either can be applied in advance (E-visa: $36) or on arrival ($30) at international airports in Phnom Penh, Siem Reap, Sihanoukville and at border crossing including Poi Pet (Aranyaprathet), Ba Vet (Moc Bai) and Koh Kong (Had Lek).
You can apply for e-visa through government official website: https://www.evisa.gov.kh
Make sure your passport is valid for at least six months, has at least one blank page and need a passport-size photo. If you don't have this, you can pay a $2 fee and they will scan the photo from your passport.
How long should I spend in Cambodia?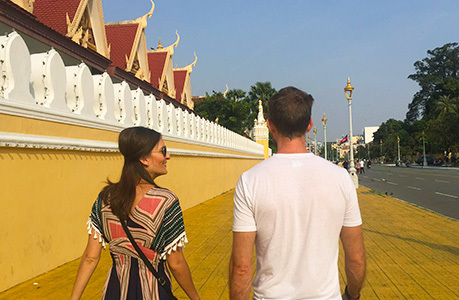 The most popular tourist attractive regions are Siem Reap & Phnom Penh and beach extension is an ideal for leisure with a few days at Koh Rong or Koh Rong Samloem Island or at Otres beach of Sihanoukville. It actually depends on how much budget you have, what holiday styles you plan for and how much you're interested in the history, Angkor temples, and the surroundings when you arrived.
If you have limited budget and you wish to stay longer in Cambodia, this absolutely means your holiday style be will be under 3* category and you don't care much about high standard services as long as you can stay in comfortable, clean bed with good air conditioning and most of your touring days are in the join-tours or mainly you go on your own exploration without local tour guide and at least with tour guide on the most important day such as Small Circuit of Angkor Complex. With approx. $370.00 per person for 7 nights / 8 days, you can visit the main tourist attraction in Siem Reap, Phnom Penh and at the beach in Cambodia.
In general and for 3* category up, you would need to consider Siem Reap & Phnom Penh or Siem Reap & Sihanoukville's beach break if you can't spend more than 1 week in Cambodia. Below are the tour samples designed for your trip planning:
1 Region in Cambodia: Siem Reap Tours
2 Regions in Cambodia: Siem Reap & Phnom Penh
2 Regions in Cambodia: Siem Reap & Sihanoukville
Should I spend 2 days to visit Angkor Wat and other temples when in Siem Reap?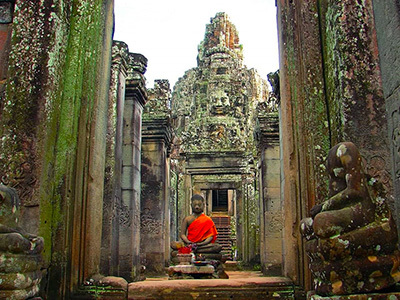 If you're really interested in temple history and architectures, Yes, you should go ahead to grab 3-day Angkor pass which cost $62.00. If you aren't sure whether Angkor temples are worth for 2 days, let's try your first day tour to Small Circuit of Angkor Complex and it won't be late to visit other Angkor temples on second day if you make a quick decision but Angkor ticket price will definitely affect your finance.
Here are options for second day at other Angkor temples:
How much is Angkor pass, how does one get it and how is it used?
The Angkor Wat pass can be purchased at the toll booth en route to Angkor Archaeological Park. There is always queue, payment is made in cash and they will take photo for you. Once you get the pass, make sure you keep it with you safely (or use name tag) because you have to show your pass to authority guards at the entrance of each temple.
A). 1-day pass is USD 37
B). 3-day pass is USD 62 (Valid within 10 days)
C). 7-day pass is USD 72 (Valid within 30 days)
Should I spend other days for authentic experience?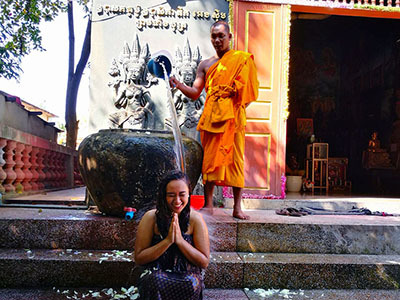 To get the best experience and leave the country with everlasting memory and meaningful, Siem Reap is the unbeatable region to see and hand on the reality of Cambodia, culture and lifestyle. From spending a day with practicing rural activities, meeting a host family for lunch, exotic fruit tasting to a Buddhist monastery for religious water blessing, the early morning of alms giving offers amazing experience which makes it the most memorable in your journey.
See tour sample: https://www.guidingcambodia.com/beyond-exotic-siem-reap-tour-8-days
What else can I see besides Angkor temples?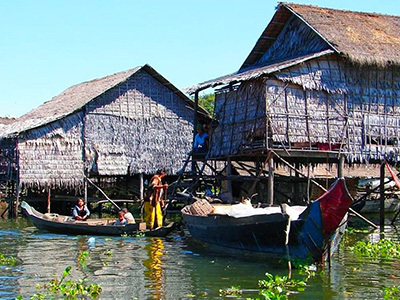 It doesn't matter you've done 1 or 2 days of Angkor Wat temple, Grand Circuit and Banteay Srei temple, the a must-see is Tonle Sap Lake for your next exploration. Tonle Sap Lake offers 4 interesting places to see its floating villages, stilt houses atop very high poles and flooded forest.
Below are the highlights of differences for each places that you can consider for your journey:
Kompong Phluk village is famed for its pleasant mangroves where you enjoy the rowing boat going closer to the lines of stilt houses arising from the water about 10m high then continue the canoe goes through the mangroves where you can catch beautiful photos and enjoy the serenity. Resume the boat excursion to visit Tonle Sap, learn about ecosystem, reveal lifestyle on the water and explore the surroundings. Unfortunately, Kompong Phluk doesn't have any floating homes at all.
See tour sample: https://www.guidingcambodia.com/kampong-phluk-tour
Kompong Khleang village is one of the floating communities at the edge of Tonle Sap, renowned for its amazing clusters of high stilt houses and ideally admired by floating village. In the boat journey, you visit both insights of interesting stilt houses & floating homes along with daily fishing/trading activities on rowing boats, learn about ecosystem, lifestyle rely on aquatic resources and observe how people make the lake as home.
See tour sample: https://www.guidingcambodia.com/kompong-khleang-floating-village
Mechrey village offers half day trip to see its less touristy floating community of the impressive Tonle Sap whose daily life animated by fishing/trading activities on their rowing boats and learn how life relies on aquatic resources.
See tour sample: https://www.guidingcambodia.com/mechrey-floating-village-tour
Chong Kneas is the largest floating village of Tonle Sap, accessible for all year round but the boat excursion doesn't smoothly run through the canal in the very dry season (mid of May to mid of August) that may cause disappointment during the trip. Additionally, Chong Kneas floating village is always touristy but there is NO choice if you plan to visit Tonle Sap in dry season while Mechrey, Kompong Khleang and Kompong Phlu are really dry up and there is nothing to see.
See tour sample: https://www.guidingcambodia.com/tonle-sap-chong-kneas-floating-village
Extra information about Cambodia: https://www.guidingcambodia.com/travel-guide-cambodia/cambodia-coun...
Which international airport should I book my flight for arrival and departure?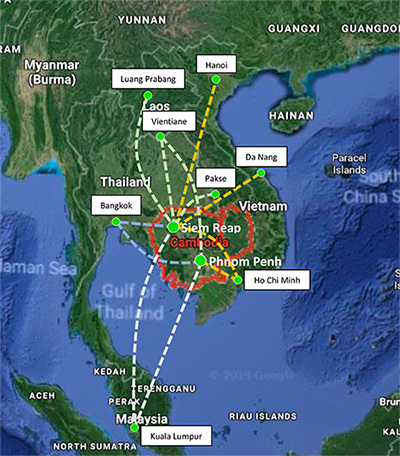 Cambodia doesn't have many direct flights from Europe countries and some of Asia countries, meaning you will have 1-2 transits in Seoul - Bangkok - Cambodia or Saigon - Cambodia.
Remark: If you have planned for the next destinations to Laos or Thailand or Vietnam after leaving Cambodia, you should know some direct flights to those cities then you will actually know which international airport in Cambodia you should book your flight for landing to begin your holiday trip.
If you start with Luang Prabang in Laos, your flight departure should leave from Siem Reap. However, your flight to Luang Prabang probably has 1 stop in Pakse if you travel in low season (June to September) and one direct flight from Siem Reap to Pakse is also possible per day.
If you start with Vientiane in Laos, your flight departure should leave from Phnom Penh but it will have 1 stop in Bangkok if the direct flight is fully booked up as it has 1 direct flight per day.
There are daily direct flights per day either from Siem Reap or Phnom Penh to Ho Chi Minh in Vietnam. If you start with Hanoi in Vietnam, you have to book your flight departure from Siem Reap otherwise, you will have 1 stop in Ho Chi Minh if you leave from Phnom Penh to Hanoi. One direct flight from Seim Reap to Da Nang is also available per day.
You don't have to worry if you leave Cambodia to Bangkok, both Siem Reap and Phnom Penh have daily direct flights to Bangkok, Thailand.
By Air Asia or Malaysian Airline, you can either leave from Siem Reap or Phnom Penh directly to Kuala Lumpur, Malaysia.