They call it the "ultimate waterfall rappel". Frommer's calls it "a bigger rush than a canopy tour."
I'm talking about the Pure Trek Canyoning tour near Arenal Volcano in Costa Rica. Canyoning is a mixture of rappelling down waterfalls and hiking in a canyon. Noted by TripAdvisor as one of the top 10 activities to do in the Arenal area, the Pure Trek Canyoning tour will have you rappelling down some of the most spectacular waterfalls in Costa Rica.
Few people experience places like this. Imagine being surrounded by lush rainforest on the precipice of a deep canyon, waiting to hurl yourself off the edge (albeit with a harness, ropes and safety equipment!) down gushing tropical waterfalls. The Arenal Volcano's rugged, mountainous terrain is ideal for incredible canyoning.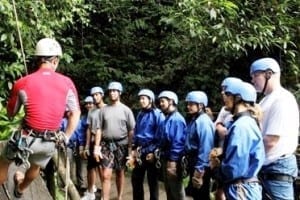 On the Pure Trek tour, you'll walk a short rainforest trail to get to the canyon and falls. Trained guides will give you a thorough safety talk to explain important rappelling and down-climbing techniques, and you will use high-quality technical climbing gear. There are three waterfall rappels – ranging in height from 165 feet to 80 feet – and a canyon rock wall rappel of about 30 feet. No experience is needed; just a good sense of adventure … and Pure Trek touts itself as being "kid friendly." Kids as young as 5 years old can go.
Don't just take my word for it. Check out these recent comments from TripAdvisor:
"We were eager to try canyoning but I am afraid of heights and we have an 11 year-old son. We decided to go for it and are so glad we did! It was a great experience. I only wish there was a 5th rappel so that I could really overcome my fear. The Pure Trek staff were totally in control of the group (us plus another 10 or so) and quietly and confidently directed us to go last (I assume it was so that we were not holding up anyone at the top – good move). They checked in with my son many times before he went down, cheered him throughout and made him feel like a champion. They guided me (the chicken) through the whole experience with such calm, reassuring confidence that I trusted them AND that I could actually do it. Thank you for enabling us to experience canyoning down a 120 foot waterfall (and others) as part of our unforgettable trip to Costa Rica. We will see you again!!" (Visited April 2013)

"We took the family, with two children, to Costa Rica recently. Our kids are the active sort, so we wanted to have a vacation of adventure. Using Pure Trek was one of the best parts of the trip as they hosted a wonderful afternoon rappelling down a series of waterfalls in the Fortuna area (near Arenal). Having never rappelled before, the wife and I were both excited and a bit anxious. No need for worries, though — it was evident that our guides put safety as the topmost priority. Even though we went down some very long drops — or what seemed like very long drops — we were always safe and always felt safe. Be prepared to get wet — take waterproof gear or least clothes of the quick-drying sort. Great fun!" (Visited March 2013)
What to bring: Hiking or tennis shoes, light-weight quick-dry clothing, waterproof camera, insect repellent, waterproof sunscreen, extra change of clothes, disposable bag for wet clothes. Tour includes: Roundtrip transportation from La Fortuna/Arenal, hot showers and towels and a hot lunch after the tour.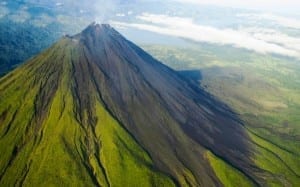 Get a great Costa Rica travel deal on the Pure Trek Canyoning adventure with Costa Rica Special Deals. The dependable online travel service, based in Costa Rica, offers top Costa Rica vacation deals. For instance, take advantage of their 6-night Volcano & Beach vacation package deal to Costa Rica and visit the Arenal Volcano, plus the famed Manuel Antonio National Park and beaches on the Central Pacific Coast.
Come discover Costa Rica's "secret" travel season – Green Season. Find great Green Season deals now with Costa Rica Special Deals. With so many places to see and experience, tours and hotels to choose from, and regions to stay in Costa Rica, you need an experienced friend in the travel business to help guide you in making your holiday as magnificent as you want it to be. Costa Rica Special Deals' main goal is to give you excellent, professional customer service and ensure you want to come back again and again.