A two-hour trip from Tokyo, the region of Oku-Nikko (Deep Nikko), near the small city of Nikko, lets travelers recharge amidst mountains, trees, water and sky; indulge in outdoor activities galore; and immerse themselves in history.

As the warmer weather and the longer days take hold, travelers begin to delight in Japan's natural wonders and adventure experiences outdoors. The world heritage sites of Nikko, just two hours north of Tokyo, can easily be combined with an overnight trip to Oku-Nikko, a place of pristine natural beauty, just another 30-minutes by car or bus from Tobu Nikko Station.





A must-stop is Lake Chuzenji, where visitors can take in the area's history, while soaking up the views and sampling local food fare. Travelers can reserve a licensed guide-interpreter for a well-informed tour of the area's history. They can also use the Tobu "NIKKO PASS all area" to board local trains, buses, the Ropeway and the Nantai pleasure-boat cruise, within the designated area, to sample Nikko's array of offerings.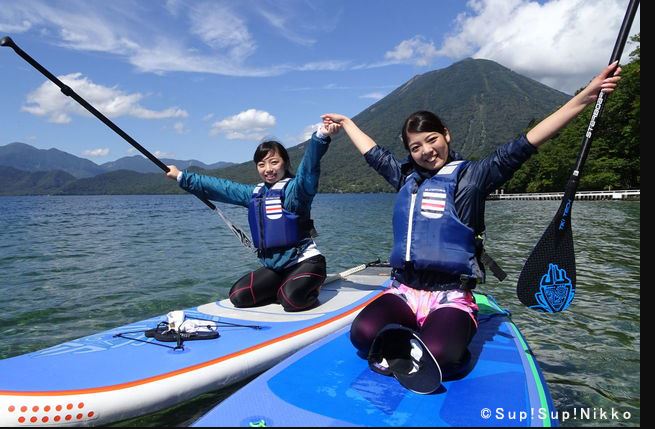 Stand Up Paddle Boarding (SUP) on Japan's Highest-Altitude Lake

At an altitude of more than 4130 feet, Lake Chuzenji, surrounded by majestic Mount Nantai, is Japan's highest lake. Recently it has also become a popular venue for stand-up paddle boarding. SUP!SUP! offers experiences for beginners and more advanced tours of the lake's highlights, including historic diplomatic summer residences.



Hiking and Stargazing at Senjogahara

Senjogahara, a wetland just under 990 acres, is named after a legendary battle over Lake Chuzenji, between the gods of Mt. Nantai and Mt. Akagi. It is home to numerous bird species and approximately 350 plant varieties.  

Routes through the wetland, including a roughly two-hour hiking course, are popular with visitors. In 2018, hiking activity in the Senjogahara area of Nikko National Park was awarded two stars in the Michelin Green Travel Guide. Strategic observation platforms gaze out for stunning sunset and star-filled-ski views.

Return to 19th/Eartly-20th-Century Nikko: Breathtaking Scenery with Tea and Scones at the British Embassy Villa Memorial Park


The British Embassy Villa Memorial Park is a gorgeous place, where travelers can immerse themselves in both the lake's natural beauty and its history. When Japan first opened to the modern world, the area surrounding Lake Chuzenji became a desirable summer resort location for foreigners. Several embassies located their summer residences here, and some foreigners built summer retreats. One building inside the park was constructed as a private residence for Ernest Satow, a British diplomat who greatly influenced Japanese history, and it later became the British embassy villa. In 2016, after 120 years, the facility opened as the Former British Embassy Villa. Here tea and scones (and other cakes) are served to visitors look out in awe at the presence of the lake, mountains, and sky.
For more information on attractions and experiences in Nikko and Oku-Nikko, visi  TobuJapanTrip.com