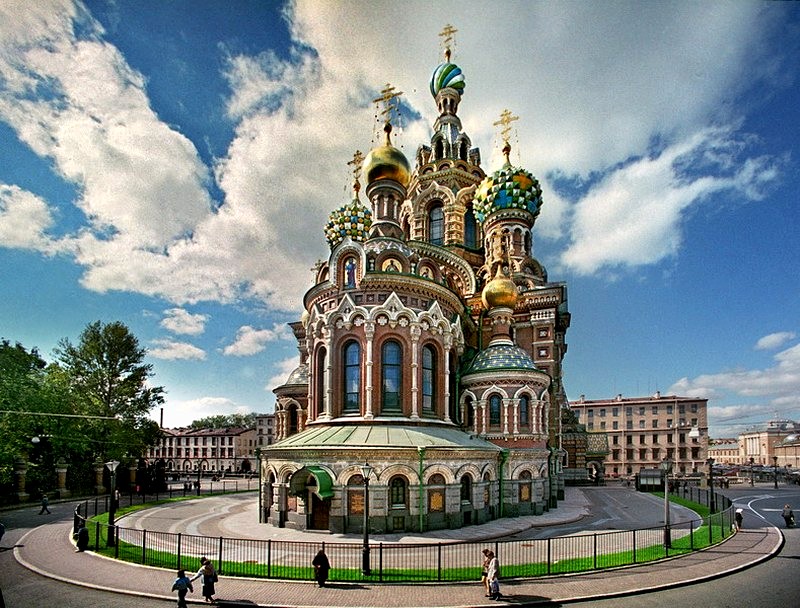 The gemlike Church of the Resurrection of Jesus Christ is known to Petersburgers as the Church of the Savior on the Spilled Blood - or even just the Church on the Blood - as it marks the spot where Czer Alexander II was fatally wounded in an assassination attempt on March 1, 1881. It was co-designed by Alfred Parland, a Scottish-German architect, and Archimandrite Ignaty, who presided over the Russian Orthodox Church at the time. Following decades of abuse and neglect during the Soviet era, painstaking restoration began in the 1970s and took 27 years to complete.
After the Russian Revolution of 1917, the church - despite becoming an official cathedral in 1923 - was looted. Closed in 1932, it was essentially turned into a garbage dump, and rumors abounded that it would be torn down. Like the rest of what was then called Leningrad, it suffered in World War II, with damage sustained during the Siege of Leningrad still visible on the outside walls.
After the war, the church was used as a warehouse for the Small Opera Theatre, and over the years almost completely fell apart - four jasper columns with mosaic mountings and a part of a balustrade were all that remained.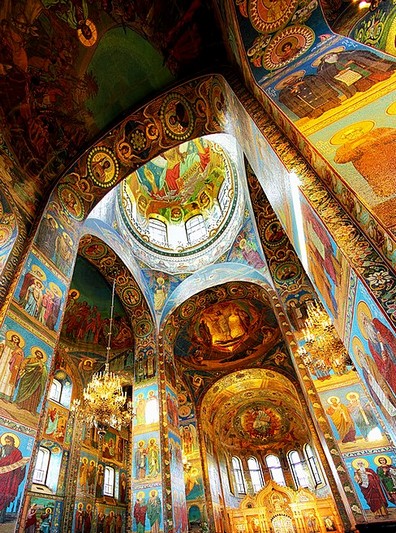 Now the Church of the Savior on Spilled Blood's breathtaking restored architecture and decoration are what draws visitors. It differs from other churches and buildings in Saint Petersburg, mostly in Baroque or neoclassical styles, in that this reflects the spirit of romantic nationalism. Modeled after the classic Russian imperial style typical of 16th- and 17th-century Yaroslavl, it includes colorful mosaics based on the paintings of 19th-century Russian Romantic and/or religious painters Viktor Vasnetsov, Mikhail Nesterov, and Mikhail Vrubel. The inside of the main dome is decorated with the a classic Russian Orthodox mosaic of the Christ Pantokrator and is one of the most memorable works of art.
In a city full of impressive architecture and art treasures, the Tserkovʹ Spasa na Krovi is a standout that is a must for any visitor to "Peter."