Dennis Jarvis


Majority-Buddhist Cambodia is a small, semi-authoritarian constitutional monarchy between Vietnam and Thailand with a rich history dating back to the founding of the Khmer Empire in 802. It suffered greatly during the Vietnam War era and especially in its aftermath, when the radical Khmer Rouge régime unleashed a genocide between 1975 and 1979 that shocked the world and killed more than two million. But the historical legacy of centuries still lives on to be enjoyed, as well as marvelous beaches and ecotourism. Here are the top highlights:



Siem Reap
This cluster of towns along the Siem Reap River draws more than two million visitors annually as the gateway to the spectacular Angkor Wat temple complex nearby, as well as charming rural villages; the natural wonder of the great Tonlé Sap Lake with its floating communities; the national park of Phnom Kulen Waterfalls; the Angkor National Museum; the War Museum Cambodia; crafts workshops; and a marvelous bird sanctuary. Biking and walking tours are the ideal way to discover the authentic Siem Reap. The town is full of lodging, dining, and lively nightlife.
Angkor Wat

Built in the 12th century during powerful Khmer Empire, the majestic, UNESCO World Heritage complex Angkor Wat (above and top) is widely famed for its unique architectures, spread across 163 hectares (402 acres). There are hundreds of ancient temples here, but the main ones include the South Gate of Angkor Thom; Bayon; Ta Prohm intertwined with the jungle; intricately carved Banteay Srei; and Preah Khan.  For wat and temple tours, click here.




Dmitry A. Mottl

Tonlé Sap (Great Lake)
A half hour south of Siem Reap, Cambodia's most important lake is also Southeast Asia's most extensive freshwater lake, supplying fish to half of the country's population. This UNESCO World Heritage Biosphere Reserve is home to many species including rare endangered water birds such as the spot-billed pelican and the grey-headed fish eagle,  and also attracts millions to see its impressive floating villages of Kampong Phluk, Kompong Khleang, Chong Kneas, and Mechrey, where locals' lives are driven by fishing and trading on on rowboats. For tours, click here.




Narith5

Phnom Kulen National Park

Holy Phnom Kulen (Mountain of Lychees) was found as the birthplace of the ancient Khmer Empire when King Jayavarman II declared independence from Java in 804 CE. Leisurely enjoy the relaxation near the fascinating waterfalls of Phnom Kulen national park, cool off and swim under them. Stroll the area to see the giant reclining Buddha, the Valley of 1,000 Lingas (religious votary symbols), and sacred crystal pool. For day tour information, click here.



Writer128
The Ruins of Beng Mealea Jungle Temple
Explore hidden Beng Mealea sitting in the lush jungle east of Angkor Wat and built as a Hindu temple in the same style and during the same time period - it's famous for its intertwined trees and peaceful setting perfect for photography. You'll fee like Indiana Jones climbing over piles of rocks and squeezing into the ruined galleries to explore the exotic mysteries within. Enroute, taste some bamboo sticky rice and observe how it's made.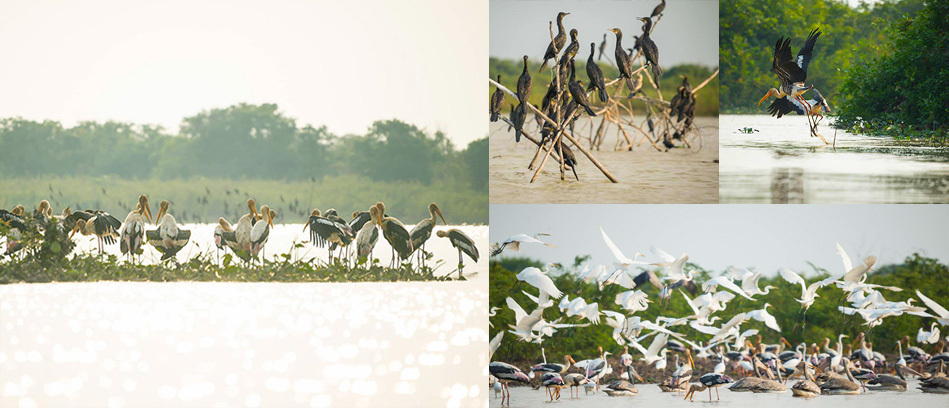 Guiding Cambodia


Beong Peariang Bird Sanctuary 


A half hour from Siem Reap in the community of Chreav, past beautiful hug rice fields dotted with palm trees, cattle, birds, and seasonal harvesting, at this reserve you can take 90-minute boat excursions on Boeng Peariang Lake, which allows you to experience Cambodia's rare, threatened waterbirds such as the comb duck, purple swamphen, cormorant, darter, purple and grey heron, adjutant, and lesser whistling duck. Enjoy the serene surroundings while observing and learning from a local bird guide about breeding, migration, and protection. On the way back you'll stop at a market in Chreav where visitors can watch locals buying and selling meat, fish, produce, and other items.



Wikirictor

Southern Coast & Beaches

After a Siem Reap/Angkor-area adventure, head down to the beaches on the Gulf of Thailand is a great option for relaxation and outdoor recreation. Options include:

- Sihanoukville Beach – Sokha Beach Resort offers a wonderful private beach for relaxing, swimming and sunbathing. 
- Koh Rong Islands – Catch a public speed boat to Koh Rong or Koh Rong Samleom Island (above, less touristy), where you tranquilly soak up nature and its beaches..
- Kep – A 3½-hour drive to the small, sleepy town of Kep, stay in Veranda resort overlooking nature/sea views and Kep National Park. Rabbit Island is an ideal spot for a beach break and awesome seafood.
- Koh Kong - Approx six hours by road from Phnom Penh, Koh Kong is also a tranquil beach destination fora  beach break, along with lush mangroves and Ta Tai waterfall.
Visits to rural communities to responsibly and respectfully learn how villagers live will make your experience of Cambodia extra memorable and meaningful, as well as giving back to the locals. From combining Tonle Sap floating village and an oxcart ride to receiving a ritual water blessing, this will stay with you forever. For more info, click here.

Experience Siem Reap By Bike
Beyond the magnificent Angkor Wat complex, travelers can gently explore the villages and countryside dotted with palm trees and cattle, mixed with boat excursions on Tonlé Sap to explore the floating villages and houses on stilts as well as canoeing through lush mangroves by canoes, and witness local life. For more info on our uniquely designed bike adventures, click here.



Dimitry Makeev


Logistics


How to Get to Cambodia


By Air:  Cambodia has two important international airports in Phnom Penh & Siem Reap. If you travel from Europe, you always transit in Thailand or Vietnam and there are direct flights to Cambodia if you travel from Asia countries including Philippine, Malaysia, Singapore, Hong Kong, Thailand, Laos, Vietnam etc.
By Land:  Border crossings include, from Thailand: Poi Pet (Aranyaprathet) in Banteay Meanchhey, Cham Yeam (Had Lek) & Daun Lem (Ban Laem) in Koh Kong, O'Smach (Chong Jom) & Anlong Veng (Chong Sa Ngam) in Preah Vihear. From Vietnam: Ba Vet (Moc Bai) & Kaam Samnor (Ving Xuong) in Svay Rieng, Phnom Den (Tinh Bien) in Ta Keo and Prek Chak (Ha Tien) in Kampot. From Laos: Dom Kralor (Veun Kham) in Stung Treng.
By Boat:  If you visit Mekong Delta River & Can Tho in Vietnam, you can catch speed boats from Chau Doc border (Cambodia's site: Kao Orm Samnor) to Phnom Penh Capital. The boat excursion takes approximately six  hours depending on the water level.
Visas

Most Asian passport holders are officially allowed to enter Cambodia without visas and can stay in the country at least 15 days to 30 days depending on ASEAN member country status. Tourist visa for most other nationalities is available for 30 days either cab be applied in advance (E-visa $36) or on arrival ($30) at international airports and border crossing. Apply for e-visa: https://www.evisa.gov.kh.
Make sure your passport is valid for at least six months, has at least one blank page and need a passport-size photo. If you don't have this, you can pay a $2 fee and they will scan the photo from your passport.
Weather/Best Time to Visit


Cambodia has dry season from mid-October to May and rainy season from June to October, with a bit of a cool period from the end of December to early January. The average temperature is from 34-37 degrees Celsius in dry season while April to May sometimes reaches 40 degrees. The rain begins from June and lasts through October, the rain is not constant, however, and may be characterized by afternoon or evening downpours. Some roads in the countryside will be impassable at this time as they get flooded or washed out.

We can say peak season, November to February, is the best period for your holiday trips to Cambodia but if you want to avoid crowds, green season, June to October, would be ideal, when every things look green and moist, temperatures are cooler, and there are fewer tourists.

Currency

You don't have to do exchange money when you arrival in Cambodia; the U.S, dollar is largely accepted throughout the country. If you do decide to change money, one US dollar is equal 4,000 Riel (the exchange rates are often inflated at border crossings, especially at Poi Pet). You will get small change in Riel if purchased items cost less than a dollar.

What to Bring


People should wear whatever they are most comfortable in but a fair amount of modesty should be exercised. Importantly, when visiting religious temples, women should cover their shoulders and properly dress below knees especially when visiting Royal Palace in Phnom Penh and at Agkor Wat in Siem Reap. To show your respect to the locals when visiting their villages or you are invited to visit their home, you are highly advised to address appropriately (i.e. not too revealing).

A hat is also recommended to keep the hot sun off your face, and apply sunscreen when go on the beaches and visit temples such as Angkor, as most of them are exposed in the open. Apply insect repellent when you go for adventure trips through the jungle, mangroves or at countryside for overnights. Walking shoes, sneakers and sandals are good for sightseeing tours while strong footwear is highly recommended for remote adventures, trekking and hiking. As it is tropical monsoon and to keep you dehydrate, you should bring bottles of water with you. A mini first aid kit is also essential.

For more frequently asked questions about Cambodia, click here.
From the magnificent Angkor Wat to the southern coastal beaches, Guiding Cambodia Tour offers a variety of classic and luxury tours, exclusive honeymoon holidays, cruise packages, cycling tours, unique custom tours, journey adventures, boat tours to Tonlé Sap floating villages and private day trips.