Visiting Costa Rica's Caribbean Coast is almost like going to another country. Very different from the rest of Costa Rica, the Caribbean coastal towns of Limon, Cahuita and Puerto Viejo highlight their Jamaican-African ancestry with reggae music, Creole patois spoken alongside Spanish, a very laid-back attitude, and cultural cuisine like Jamaican spice cake, rice-and-beans, coconut shrimp, and papaya juice.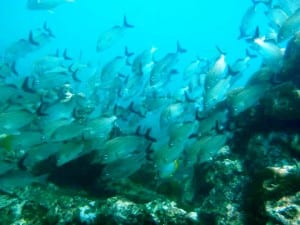 A main draw to the area is, of course, the Caribbean Sea – known for its crystal clear aquamarine water, vivid and interesting coral formations, and multitudes of brightly colored tropical fish.
One of the largest coral reefs, and the only mature coral formation found along Costa Rica's Caribbean coast, is at the Cahuita National Park. Created originally as a national monument in September 1970 to protect the marine and forest eco-systems, the Cahuita National Park presents white sandy beaches with coconut palms and coastal almond trees, clear and warm seas, and the magnificent coral reef.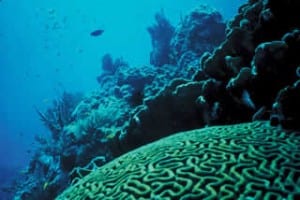 The reef fans out over an area of about 600 acres (around a square mile) off Cahuita Point by a horseshoe-shaped beach. Snorkeling in the area is fantastic, and you can swim right out from shore or go on a boat. You can see 35 species of coral, including enormous Elkhorn Coral, fascinating Brain Coral and graceful Venus Sea Fans. The coral garden sustains an abundant variety of marine life, including sea urchins, sea cucumbers, lobsters, white shrimp, crabs, barracudas, octopi, sting rays, small sharks, and about 125 types of fish such as blue parrot fish, clownfish and angel fish.
Coral reefs are home to more than 25 percent of all known marine species. When diving or snorkeling near coral reefs, do not touch, stand or walk on the reef, or collect coral. Reefs are living creatures!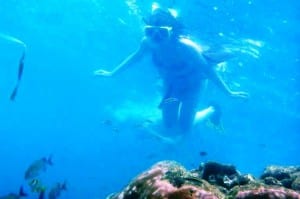 Another attraction at the outside reef is a shipwreck from the 18th century – a slave ship bound for Limon that didn't make it. The broken-up ship, complete with cannons, now sits conveniently in about 20 feet of water at the mouth of the Perezoso River, covered in crustaceans and other marine life.
February through April, in dry summer season, is the best time for snorkeling and diving in the Cahuita National Park.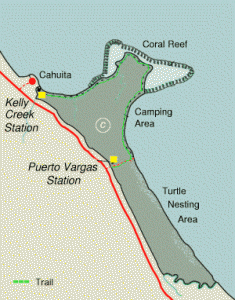 Enjoy Costa Rica Special Deals' exciting tour deal in Costa Rica to visit Cahuita National Park on the Caribbean Coast. Costa Rica Special Deals offers a 1-day snorkeling and hiking tour in the Cahuita National Park from Puerto Viejo. You'll go by boat to the best snorkeling sites before being dropped off at the beach. After a fruit and snack break, you'll go on a 1-1/2 hour easy 3.5 km guided hike along coastal forest trails.
White-faced Capuchin monkeys, sloths, howler monkeys, raccoons, coatis, iguanas, and large webbed spiders are very common to see along the Cahuita National Park's trails. The area is also home to several species of swamp-forest birds such as the green ibis, yellow-crowned night heron and the boat-billed heron. Watch out for snakes like the venomous Golden Eyelash pit viper.
Great vacation deals in Costa Rica can be found with Costa Rica Special Deals travel agency. The Costa Rica-based travel service professionally assists you to choose and reserve hotels, tours, transportation, local flights, car rentals and other services for your Costa Rica vacation. They feature many fabulous well-priced Costa Rica vacation packages. Costa Rica Special Deals always offers the most competitive Costa Rica hot deals.
By Shannon Farley