On a weekend, singer Pham Anh Khoa invited his friend to his hometown for a summer vacation trip. All gathered in a place of Khanh Hoa before joining a boat to come to a neglected island and playing the role of Robinson.
In fact, the destination is Bai Hom – is a 5ha wide valley which is in the middle of stone mountains (50m and 100m high). In order to come here, visitors have to use a coach from Ba Ngoi township (Cam Ranh, Khanh Hoa) to the national road no 1A to Binh Tien (Ninh Thuan) and Binh lap (Cam Lap – Cam Ranh), then taking a 15-minute walk and 20-minute on boat to the island. We also could take the boat from Ba Ngoi port, but it takes longer.
Upon the arrival, everybody settled the tent, food and cooking stuff to the place of striking camp which is right next to the beach. While women were in charge of doing the hammock and the new tent, men takes charge of finding firewood, go fishing or diving to "hunt". Soon, Mr Bay – a local person – caught a 5-kilogram ray fish, a sliver snapper, a paper amberjack and an eel. Beside the rocky mountain corner, the friend of Anh Khoa caught some cuttlefish, fish out a full pot of sea urchin and sweet snail.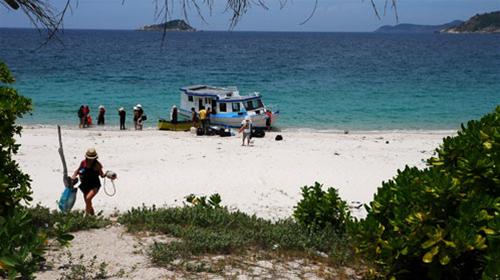 Food for diner has been ready, everybody go swimming or playing football in the smooth white sand bank which is considered most beautiful on the island. The sea is peaceful due to the Binh Ba island blocks the entrance from the East, and the water is pure and limpid to witness the fish on the bottom.
Two other singers dived in the depth of about two meters to see the actinia and coral, holothurians with different colors. All then come to boat to discover the coral range in Rang beach at the back of Hom beach. Debu, a friend from Nepal told that "This is the most desolated and beautiful that I've known."
In the evening, after the meal, people were invited to taste the fresh alive sea food: cuttlefish, fish, sea urchin with the wasabi and lemon. In the mood of tipsy with the heady bouquet of alcohol and the firelight, the real singers as well as the amateur one was singing passionately together with the sea wave. All created a peaceful sound.
In sleeping time, some brought their children to the tent, some lied on the hammock or the canvas. Some followed the local one (Pham) to bury themselves in the sand to avoid wind from the sea and being lulled by the wave. Among the enormous sea and sky, people let them easy in mind with the daily stuffs, they thought they were Robinson in the middle of desolated island but we were with 20 other friends but not only "Friday"!