In the few months that my website has been in operation, I have featured easy hiking adventures in Europe and the US, discussed hiking boots, backpacks and other hiking subjects. One thing I have not talked about at all is the topic of après-hike.
And why has nobody so far bothered to say anything about this topic? Because there is, strictly speaking, no such thing. This is (yet another) striking contrast to hiking's distant cousin of skiing, "cousin" because it is also an outdoor activity and "distant" not least because it is one for which the prefix après seems to have been invented – après a day on the slopes, after all, you can wine, dine and be merry, meet other skiers of the opposite or (if that's the way you "swing") same sex and invite them to your chalet for romantic encounters.
And what about après-hike? Even if you do not spend your evening in a draughty tent over tinned food and a can of coke, the best you can do in your stopover village is to walk the local high street up and down, then down and up and up and down again, pick the least terrible restaurant and then a bar (to be mistrustfully eyed by the locals) – before you retire to your room at 9 p.m.
Now, unless you understand enough of the local language to follow a TV programme – provided you have a set in your room that actually works – you are pretty much on your own.
Which is why any advice for après-hike can be summed up rather succinctly: Bring a book.
But what book? I think we can fairly easily agree that a hiking vacation is not the right time to delve into a classic that you have always wanted to read but never found the time for. Neither should you occupy yourself with anything that has to do with your work – isn't that what you were supposed to have left behind?
No, a "hiking trail" book should make you feel good, make you chuckle, feature a joke or two which you may want to share the next day with your travel companion who is snoring blissfully in the bunk next to yours. It should, perhaps, even have a connection to your trip: something about the country or region you're in, or something about hiking in general.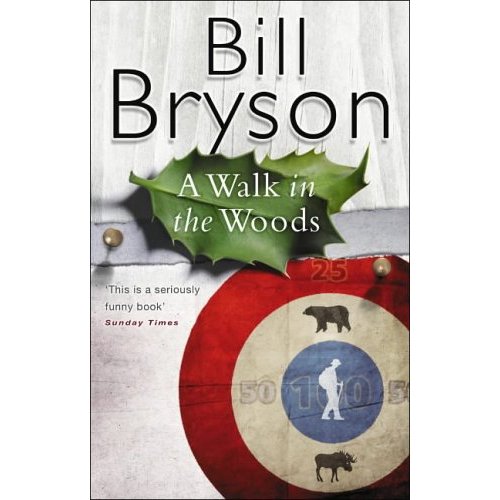 One book that ticks all the boxes is Bill Bryson's A Walk in the Woods. It is funny, warm-hearted and kind – and it tells the story of its two middle-aged hikers in such a way that your own hike will positively glow in comparison.
As it happens, I have a spare copy, and not only that: I am willing to part with it, too.
Just tell me what book you would bring on a hike – or perhaps what book you have brought and greatly enjoyed. In four weeks time, I will put on my judge's cap and determine a lucky and deserving winner.
In the meantime, I shall be waiting for your suggestions.
(If you liked what you see and read in my website, why not subscribe to my RSS feed and follow me on Facebook and/or Twitter, too)