When the coffee mill is roasting in my little town in Costa Rica, you can smell the aroma throughout our hills and valleys. The sweet, pungent fragrance entices you to a steaming cup or two in the morning, and following tradition, another at 3 p.m. When I first moved to this small Central American land, I was puzzled by how it seemed the entire country stops at 3 pm for its "cafecito". After nearly 11 years of living here, I find the local custom lovely, and follow it quite strictly rain or shine.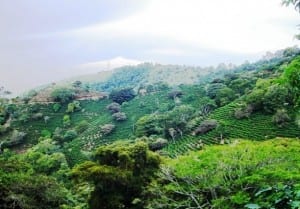 When the rains regularly begin in late May, after the dry season, my town's hillsides that are dotted with coffee plantations burst into bloom with the white coffee flowers that are so thick sometimes it looks like snow. Now, in mid-October, I just saw this week the first coffee pickers preparing their large straw baskets getting ready for harvest, which will begin in a week or two and last through February.
Coffee has been a fundamental pillar of Costa Rican life and the motor that drove its economy for nearly 2 centuries. Costa Rica currently ranks 13th among world coffee producers; Vietnam and Brazil are the world's largest exporters, with Brazil occupying 40% of the world market.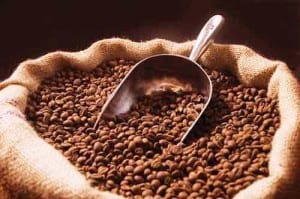 Coffee is believed to have originated in the central high plateaus of the Ethiopian rainforest. Historians trace coffee back for about 1,500 years with the Arabs being the first to start cultivating it more than 500 years ago, hence the name for Arabica beans. Coffee was introduced to Europe in the 7th century through Venetian trade with Turkey. The magic bean, called "grano de oro" (grain of gold) here, came to Costa Ricain the early 1800s, introduced by Tomas Acosta. Commercial cultivation began in 1860.
Costa Rica's gourmet coffee has long been favored by coffee lovers for its high acidity, excellent body, and good aroma. Only Arabica varieties are planted here by nearly 80,000 coffee producers, mostly small-scale farmers. Though coffee is grown in many places around Costa Rica, the highland areas surrounding San Jose and the Tilaran Mountain Range that extends to Monteverde are the ideal climate with the perfect combination of rich volcanic soil, high altitudes and balmy temperatures. The most famous coffee regions in Costa Rica are Tarrazú, Tres Ríos, Alajuela (Poas), Heredia, Orosi, and Turrialba. The country exports 90% of its coffee harvests, whose sales represent 15% of the country's total exports.
U.S. coffee giant Starbucks recently upped its presence in Costa Rica, opening its first storefront in the ritzy Plaza Avenida Escazu shopping street, in the western San Jose suburb of Escazu, in June 2012. A second store is planned for eastern San Jose by the end of the year. The company, known for paying top dollar for high-quality coffee around the world, has been buying Costa Rican coffee for years.
In fact, Starbucks purchases 10% of the national coffee production, according to Ronald Peters, Executive Director of the Costa Rica Coffee Institute (ICAFE). "We are some of the principal suppliers of Starbucks, and they are the No. 1 individual buyer that Costa Rica has for its coffee," Peters said in a local Tico Times newspaper article earlier this year.
Green Mountain, an ardent rival of Starbucks in the household coffee market, is another prominent buyer of high-quality beans from Costa Rica. Other world buyers include the German coffee brand Hochland Kaffee, Nespresso and Peet's Coffee and Teafrom the United States.
Coming up now, from November 11-16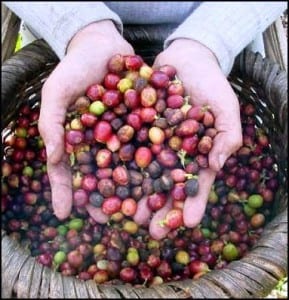 , 2012, the world's largest "Coffee Research Conference" will happen in San Jose, Costa Rica, at the Ramada Plaza Herradura Golf Resort & Conference Center. The "24th Association for Science and Information on Coffee (ASIC) International Conference on Coffee Science" will bring together specialists from all over the world to present and compare their investigations in coffee science and technology. Coffee scientists will discuss important issues such as rapid climate change, pests, and the relationship between coffee consumption and human health. This is the very first time this unique event will take place in Central America.
You can get your own insider's look and special deal on Costa Rican gourmet coffee by visiting Costa Rica yourself with Costa Rica Special Deals. The Costa Rica-based travel service company provides professional service guiding you through the process of choosing hotels, tours, transportation, local flights, car rentals and many other services you may need during a vacation to Costa Rica. Costa Rica Special Deals offers the most competitive rates online.