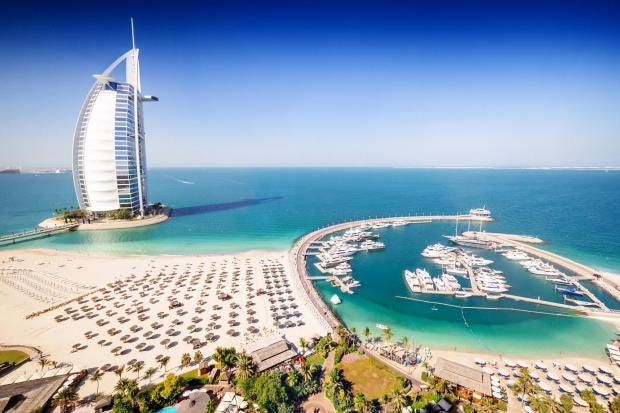 Traveling to a foreign country is never easy. You have to deal with language barriers, cultural differences, communication problems and airline hassles, and of course you don't know your way around. Your business trip to Dubai doesn't have to be a stressful experience, however, if you prepare in advance.
When to Go
Dubai weather is sometimes unpredictable, and most people won't schedule a business trip during the summer months. You are better off planning your trip for the late fall and early winter, in November or December, or in the spring months, in April or May. If you have to go during June, July or August, you'll be looking at 110-degree temperatures with very little relief.
What to Wear
According to the Dubai Tourism web site, clothing in this area of the world is much more relaxed than in the United States. Men should wear lightweight pants during the spring and summer months with a button-down shirt and tie. A jacket might be necessary for an evening business dinner, but lounge suits are more common.
Women should dress just as they do at the office back home on a business trip to Dubai, but keep in mind the extreme temperatures. Lightweight cotton fabrics are recommended, with jackets or shawls for indoors because air-conditioning might be turned up. It is also a good idea for women to avoid low-cut and revealing clothes in Dubai, particularly when out and about.
What You'll Spend
Spending money on your business trip to Dubai can be confusing, particularly since vendors in the souk marketplaces expect customers to bargain for what they want. Government regulations keep the cost of utilities, such as telephone calls, on the low side, but accommodations can be expensive. If you'll be purchasing items with a credit card, such as clothing or meals, it is best to travel with an American Express rather than a Visa or MasterCard.
How You'll Communicate
If you stay in one of the area's nicer hotels on your business trip to Dubai, communicating both in Dubai and to other areas of the world shouldn't be a problem. The Burj Al Arab Hotel, for example, offers complementary high-speed Internet access in each of its rooms, plus a photocopier and data port, telephone and facsimile, and even a laptop at your disposal.
If you need to make a telephone call from Dubai to the United States, you'll need to dial the international dialing code (001), the UAE country code (971), Dubai's dialing code (4) and the number you are trying to reach.
How to Get There
There are several different ways to travel on your business trip to Dubai. Emirate Airlines flies to San Francisco, Los Angeles, Houston and New York, which might be the easiest way to travel even if you need to take a connecting flight. Etihad Airways is another option, and flies into Abu Dhabi, which is about two hours away from Dubai.
Where to Stay
It is usually best to stay at one of the area's nicer hotels on your business trip to Dubai. The amenities make them worth the cost, and this way you won't wind up in a bad area. Although all of Dubai is relatively low-crime, safety should be a priority.
As mentioned above, the Burj Al Arab Hotel is one of the most popular in Dubai. They have several rooms and suites available, each with a different level of amenities, as well as on-site bars and restaurants for convenience. Business travelers also enjoy access to a private chauffeur, which is helpful for finding your way around town.
Where to Eat
Meals on your business trip to Dubai shouldn't be difficult to find, as there are hundreds of fine restaurants from which to choose. For a casual lunch with a business association, try Basta Art Café in the Bastakiya District. You'll pay between $7 and $12 for a sandwich, soup, salad and drink, and the atmosphere is pleasant.
For a more formal evening meal with clients or associates, Junsui in the Burj Al Arab Hotel is a great choice. Dinner will run you between $90 and $130 per person, but the food is exquisite and the atmosphere is perfect for a business meeting or casual conversation.
Your business trip to Dubai might be long or short, but you can enjoy yourself while taking care of business. There are plenty of things to see and do during your visit, so if you have some spare time, visit the Dubai Tourism web site for more information.