Legend tells that when God made the world, after he finished painting the sky a brilliant pastel blue, he washed his brushes in a beautiful Costa Rican river, coloring the river the same intense sky blue.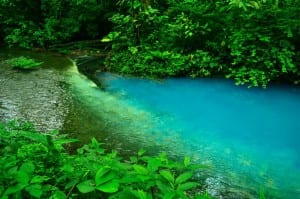 Rio Celeste (Sky Blue River) is still revered as a sacred site by the indigenous Maleku tribe who live in this Northern Costa Rica region near the Tenorio Volcano. The river begins its journey as crystal clear water tumbling and flowing down the lush rainforest of Tenorio Volcano National Park; then suddenly it passes over a visible white line and magically transforms into its distinctive turquoise-sky blue color. Scientifically speaking, the phenomenon is caused by a chemical reaction between thermal sulfur steam that emanates from the bottom of the river and calcium carbonate entering from a small side stream.
The river and stream merge into one at "Borbollones" (which means "bubbling" in Spanish), where gases rising from the river floor make the water look like it is boiling. Rio Celeste carries its color for about 22 miles (35.5 km) downstream.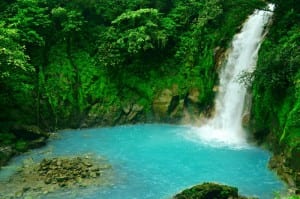 The stunning Rio Celeste area features many attractions, including an impressive nearly 100-foot (30 m) waterfall spilling into a picturesque turquoise pool, the tranquil Blue Lagoon of deep sky-blue, natural hot springs, fumaroles where volcanic gases of temperatures up to 1,500° F (815° C) are occasionally expelled, and a lookout point from where you can see the 6,286 foot (1,916 m) summit of Tenorio Volcano on cloudless days. Swimming in the pool at the waterfall and in the Blue Lagoon is very popular among visitors, as are soaks in the hot springs; however, visitors should be wary of the hot water and boiling mud pots, and use caution while exploring the river's banks.
Getting to Rio Celeste involves a moderately challenging hour-long hike through the forest from the Tenorio Volcano National Park entrance – a trip well worth the effort. The park entrance, near Guatuso, is about an hour's drive from La Fortuna near Arenal Volcano, and 2 hours from Liberia.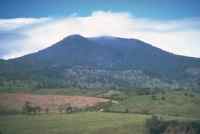 The Tenorio Volcano National Park protects 31,794 acres (12,860 hectares) of primary cloud forest and rainforest which abounds with an immense diversity of life, rivers and waterfalls, thermal hot springs and Laguna La Danta (Tapir Lake). The Tenorio Volcano, with multiple craters, and Montezuma Volcano with twin craters, are both assumed to be dormant, with no eruptions in recent history, according to the Costa Rica National Park Service.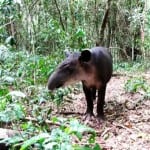 All of the large mammal species of Costa Rica live within the park – tapirs, peccaries, anteaters, coatis, raccoons, and pacas – and include most of the feline species, such as jaguars, cougars, ocelots and margays. Three of the four varieties of native monkeys – howler, white-faced capuchin and squirrel monkeys – also live in the area. A large variety of birds, such as toucans, bare-throated bell birds, turkey vultures, crested guans, hummingbirds, and several species of falcons can be seen. Near the park entrance is a majestic towering Kapok (Ceiba) tree that is likely centuries-old and has been designated as a "Tree of Peace" for its "magnificent-yet-serene stature."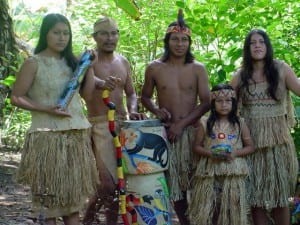 Also located close to the park is the Maleku tribal reserve, with its three communities of El Sol, Margarita and Tonjibe. Tourists are welcome to visit the reserve to learn about the Maleku's unique culture, interact with residents and experience their distinctive way of life. The smallest of the native tribes left in Costa Rica, approximately 500 people live on the reserve. Before the Spanish colonization in the 1500s, their territory extended as far west as Volcano Rincon de la Vieja, and included Volcano Arenal to the south and Rio Celeste. Today, the Maleku's reserve is concentrated south of the town of San Rafael de Guatuso, an hour north of La Fortuna. Their economy primarily relies on indigenous art: carvings, paintings and musical instruments. Community elders work hard to preserve their people's native language, customs, and natural medicine of the rainforest.
You can visit Rio Celeste, the Tenorio Volcano National Park, and the area's many attractions with the Costa Rica-based travel service Costa Rica Special Deals. The top professional agency offers a great vacation package deal with the Rio Celeste Hideaway luxury boutique hotel. Stay two nights in one of the hotel's 26 spacious individual cottages and enjoy a hiking tour to Rio Celeste and the Tenorio Volcano National Park, and a hot stone massage. The hotel is located only five minutes from the park's main entrance. Rio Celeste Hideaway Hotel received Trip Advisor's "Excellence Award" for 2012.
Costa Rica Special Deals arranges your Costa Rica vacation plans with ease, helping you choose hotels, tours, transportation, local flights, car rentals and other services; plus they offer the most competitive rates online.